Venue for ESAS Meetings
JULY MEETING: Egerton Park Indoor Bowls Club
Egerton Road, Bexhill, East Sussex. TN39 3HL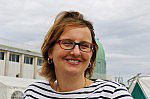 Next Meeting :
Thursday 7th July 2016 8pm Start.
Kathy Romer from Sussex University.
This talk will introduce the following concepts: expansion of the Universe, dark matter, and dark energy. The audience will be asked to select which 2 or 3 of the following topics they want to learn more about.
a) Practical aspects of the Dark Energy Survey;
b) How clusters of galaxies allow us to study Dark Matter and Dark Energy;
c) How galaxy patterns allow us to study Dark Matter and Dark Energy;
d) How exploding stars allow us to study Dark Matter and Dark Energy;
e) How gravitational bending of light allow us to study Dark Matter and Dark Energy.
About ESAS
ESAS is a registered charity No. 1110848

Our aim is simple, we want people to enjoy astronomy and feel welcome to join in our activities. We meet on the first Thursday of each month (excluding August) at Egerton Park Indoor Bowls Club, Egerton Road, Bexhill, East Sussex TN39 3HL (How To Find Us).
Our meetings start at 8 pm and take the form of a ESAS and night sky update, then a break for coffee and then the main speaker. In the current venue there is an entrance fee (£2 members/£4 non-members). Each August, in place of our meeting, the Society holds its annual BBQ.
We have members of all ages whose abilities range from beginners to seasoned astronomers. Non members are welcome at our meetings where they will receive a copy of the ESAS magazine, Albedo, and a welcome pack from the Society.
If you would like a copy of Albedo, please click here.

ESAS has it own observatory with a 16" telescope which is available for members use. We also have a range of telescopes which members can use. We hold regular observing sessions and frequent public observing events. In addition to our astronomical activities we arrange a number of "non astronomical" events throughout the year for our members, their families and friends. These include various meals, quizzes and visits.
Whether a member or non member, you will receive a warm welcome at ESAS and there are always experienced astronomers on hand to help and advise you on any issues you may have.
---
Everything you want to know about the ESAS
ESAS is a member of the Federation of Astronomical Societies, British Astronomical Association and Southern Area Group of Astronomical Societies.
You can find out more about ESAS and our events by visiting our social networking sites at "ESAS on Facebook", "ESAS on Twitter" and "Friends of ESAS" on Facebook.